Become Immersed in Van Gogh
Jul 27, 2021
On July 21 I was fortunate to attend the Immersive Van Gogh* show in Charlotte, NC put on by @LighthouseInteractive. Wow. WOW! It's taken me this long to recover emotionally and find the words to describe not just what I saw, but what I felt. Know this, if all I had were three words for you they would be — GO SEE IT!
"Color represents the enthusiasm of life." — Vincent Van Gogh
Van Gogh's Essence
Van Gogh's genius lay in more than his composition and use of colors. Coupled with his expert drawing ability, brush work, and the passion he infused into every piece of art is what makes all his works so exceptional. When you stand before any of his canvases, you can tell that every painting bleeds from his heart. It's as though he poured his life's essence onto every canvas he painted, so that when he died it was because there was nothing left of him. It seems to me that his heart finally gave out and at last his body could perform no more. I can't help feeling if only he could have received even just a tiny bit of the love, admiration, and appreciation there is today for him — just imagine how much more beauty he could have created for our eyes and souls to feast upon.
Vincent's Uniqueness
Experts today observe that Van Gogh had chromesthesia — a form of synesthesia. "Vincent Van Gogh explained in his letters that for him, sounds had colors and that certain colors, like yellow and blue, were like fireworks for his senses" (Katie 2018). Back then, this amazing ability would have made Vincent stand out — yet not in a good way for those times. With no one to help him understand that what he was perceiving and experiencing, although unusual, was perfectly normal. In fact, his piano teacher thought him insane and refused to teach him any more because Vincent kept talking about how certain sounds produced certain colors for him. Is it any wonder that Vincent thought he was going mad?
At the show last week, Starry Night Over the Rhône was projected on the walls and on the floor with his stars softly exploding like fireworks in the sky — the animation and timing of the sounds was perfectly coordinated with the music. It was the first experience I had, however small, of how Vincent must have experienced the world. And while glorious and even awe-inspiring, it must have also been so disconcerting and disorienting for him.
Most of Van Gogh's works were relatively small — on average about 28" x 36" (the size of The Starry Night) and much smaller. His largest known painting, Vegetable Garden in Montmartre: La Butte Montmartre was a mere 27" x 67":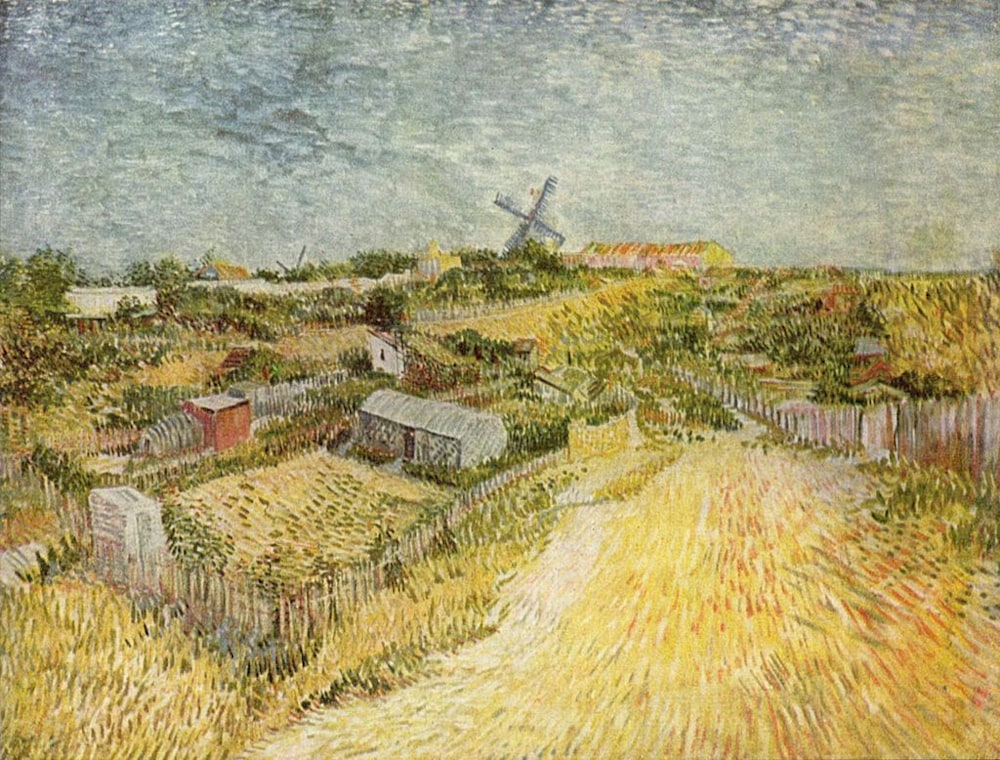 Vegetable Garden in Montmartre: La Butte Montmartre, 1887, Stedelijk Museum, Amsterdam
Which is one reason why this show is so incredible. Normally, to see the full range of Vincent's brush work means getting your nose within inches of the originals because they are so small. And few museums (or collectors) are comfortable letting you do that. But the show's producers spared no expense in getting superb hi-resolution images for projecting Van Gogh's work many thousandfold. The end result is seeing Vincent's brushstrokes in excruciating detail even from three feet away on walls 10 to 15 feet high. You can't help but be awed at his strength and confidence in making marks and his brilliant mixing of colors to create cohesive, magical works of art. He blended colors few people would think of using, but he could because to him, colors made music together.
"...some painters had the majestic quality of using their hands with the virtuosity of a violinist...." Van Gogh
As I sat there, enveloped by the music and his art morphing onto the walls from one painting to another, I became overwhelmed. To see my hero's work appear, literally, stroke by stroke before my very eyes, to imagine his mixing colors frantically — to get down on canvas what he felt and what he saw before the light changed — it left me awestruck and in tears. The beauty that he created, his interpretation of what nature displayed, is magnificent. As I'm writing this, I'm crying as I remember how I felt sitting there. I didn't want to leave. I wanted it to go on and on and on. It made me yearn to be beside him and watch him work. To learn from him. To hug him and thank him for what he created. Because my life would not be the same without his having shared his genius.
I encourage you to see this show and to study more about Vincent, his work, and his struggle to remain sane despite people telling him he was bonkers. I hope Vincent's life serves as a reminder to all of us to be more understanding and compassionate towards those suffering from mental illness, from those who are different than we are, and to celebrate those very differences. For they are what make us all so very fragile and human.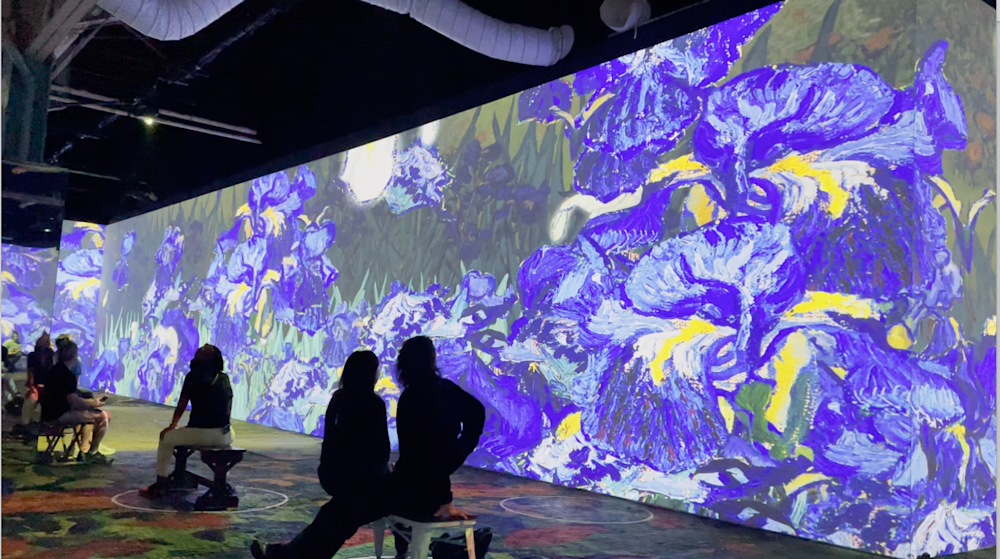 Irises, May 1889, Van Gogh Immersive, Charlotte, NC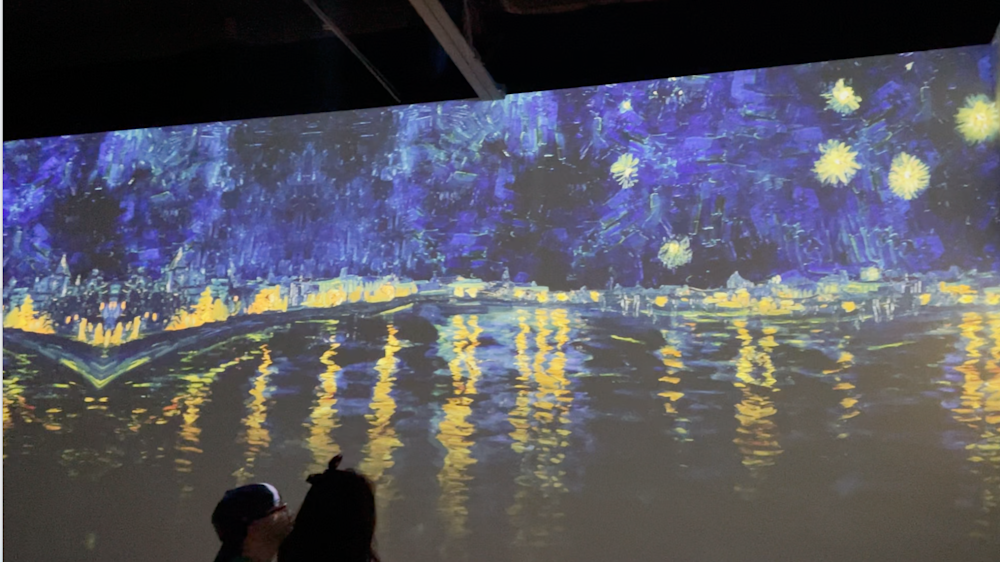 Starry Night Over the Rhône, September 1888, Van Gogh Immersive, Charlotte, NC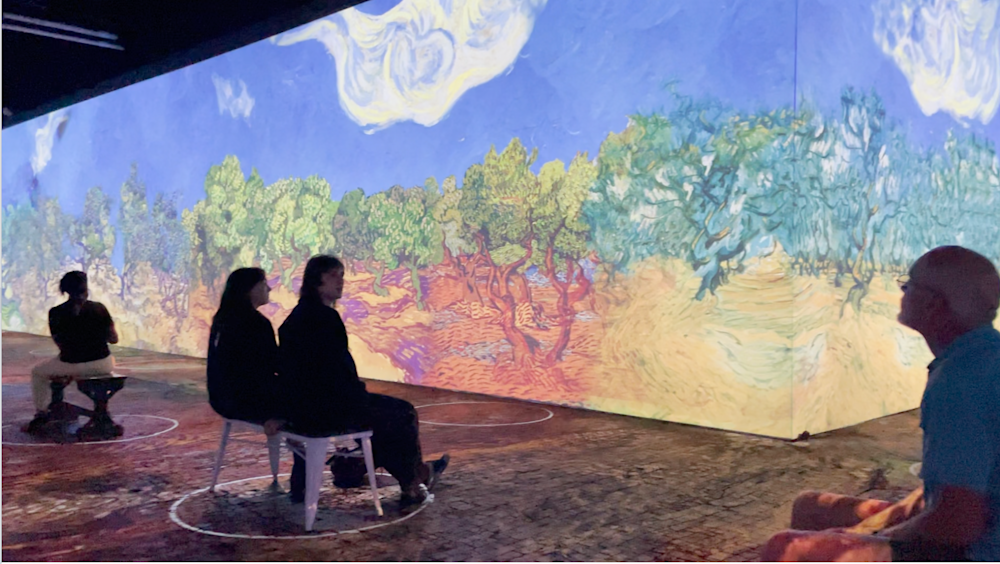 Olive Groves / Picking (various paintings compiled), 1889, Van Gogh Immersive, Charlotte, NC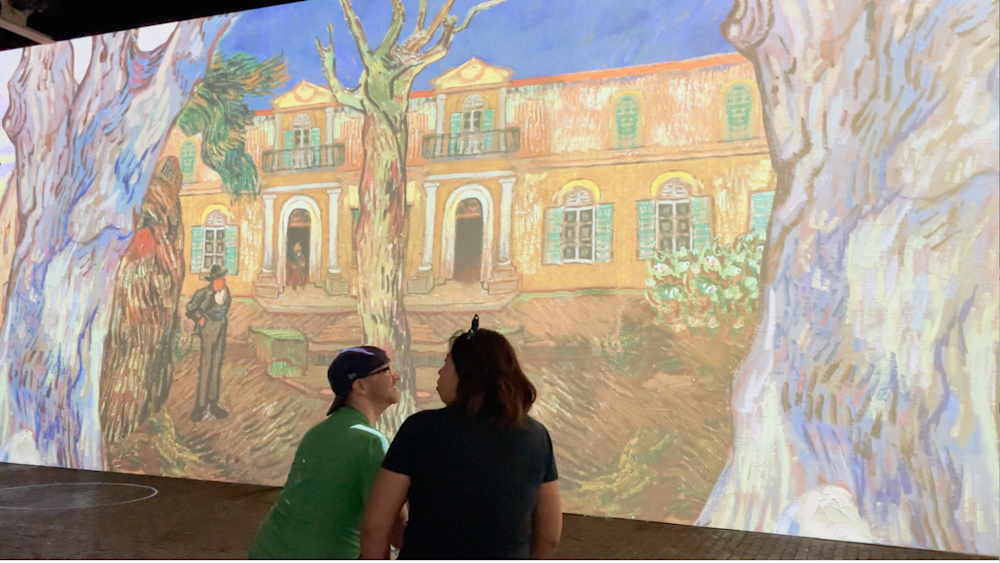 Pine Trees with Figure in the Garden of St. Paul Hospital, November 1889, Musée d'Orsay
Citations for further exploration:
https://www.ncbi.nlm.nih.gov/pmc/articles/PMC4286234/
https://scholarblogs.emory.edu/nbbparis/2019/06/10/hallucinations-or-chromesthesia/
https://en.psychologyinstructor.com/vincent-van-gogh-and-the-power-of-synesthesia-in-art/
https://exploringyourmind.com/vincent-van-gogh-and-the-power-of-synesthesia-in-art/
http://www.webexhibits.org/vangogh/letter/12/313.htm
*(Note: There's another one called Beyond Van Gogh, put on by different producers, but I can't speak to it.)